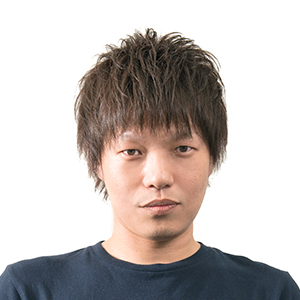 | | |
| --- | --- |
| Date of Birth | 1986.10.24 |
| Height | 167cm |
| Weight | 63kg |
| Blood Type | A |

2013

12th place, Grand Prix Kyoto

2014

Champion, Grand Prix Kobe
5th place, Grand Prix Nashville

2015

Champion, Grand Prix Oakland

How long have you been playing Magic: The Gathering?

From 1998 to 2004, and from 2014 to the present.


What got you interested?

I'd originally been playing another card game and figured I'd try out Magic: The Gathering too.


What cards are near and dear to you?

Wild Mongrel.


How about your favorite Magic color?

Red.


Of all the decks you've played in tournaments, which did you enjoy most?

Red-White Burn (Grand Prix Kobe).

What format do you enjoy playing most—Standard, Draft, or something else?

Draft.


What tournament has stuck with you most?

Big Magic Open Kobe (I had the best draws of my life there).


What players do you look up to?

Masahiko Morita.


What are your goals for this season?

Getting platinum.


What do you want to accomplish as a pro Magic player?

I want to connect with like-minded people and keep winning together with them.


What do you normally do besides playing Magic?

Go to cafés.


What other players are you friends with?

Toru Inoue and Kazuki Kato.


What do you always carry with you when you're out and about?

My phone, a wallet, a notebook, and a pen.